---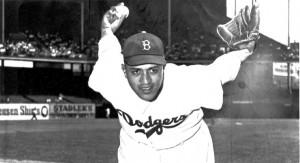 Don Newcombe
's baseball resume reads like a history lesson, spanning from the pre-integration era of the 1940s to the present day. The first player to win Rookie of the Year, Cy Young, and Most Valuable Player awards, "Newk" won 20 games and hit .359 in the Brooklyn Dodgers' only championship season. Despite his accomplishments, Newcombe never received more than 15.3% of the writers' vote in elections for
Baseball's Hall of Fame
. Though Cooperstown has yet to beckon, Newcombe may very well be in a more prestigious Hall of Fame — one that requires presidential approval for admission. To understand the accomplishments that warrant inclusion into such a Hall of Fame, one must peer into Newcombe's groundbreaking baseball experiences. Two seasons after beginning his professional baseball career with the Negro Leagues' Newark Eagles, Newcombe played for the Nashua Dodgers, America's first racially integrated baseball team since the color line was drawn in 1888. By 1949, Newcombe, with teammates
Jackie Robinson
, and
Roy Campanella
, and Cleveland outfielder Larry Doby was among the first African-Americans to be named to a Major League All-Star team. Apparently aware of Newcombe's role in breaking baseball's color line, it was President Obama himself who included Newcombe in the White House Hall of Fame during a fundraising event for California Senator Barbara Boxer. As he greeted people at the fundraiser, Obama made a point to seek the company of Newcombe, still a striking figure in his mid 80s. Upon finding him, Obama introduced the Dodger legend to people in the president's party.
"He spoke of me, Roy and Jackie as people that helped him get to where he is today," Newcombe recalled. "That's the president of the United States. I was overwhelmed by it."
Soon Obama took the spotlight and addressed the crowd. Near the start of his speech, he announced the Dodger great's presence. In a tip of the cap to Newcombe, the president told the audience, "I just had the honor of…taking a picture with him and he was very gracious in saying…Jackie would be proud. And I said, well, I would not be here if it were not for Jackie and if it were not for Don Newcombe." After the speech, the Commander and Chief continued to praise Newcombe. "Barak was coming off of the stage and pointed to me and said, 'There's my Hall of Famer'," Newcombe recalled. Flashing a smile, Newk' reflected on his meeting with the president, saying, "I may not be in the Hall of Fame in Cooperstown, but I am in the White House Hall of Fame at 1600 Pennsylvania Avenue."
Reach Jim Smiley, the author of this story, CooperstownExpert@yahoo.com
B
e sure to check out CooperstownExpert.com, the internet's leading website for the display of museum-quality baseball autographs. Check in at our Facebook page.