---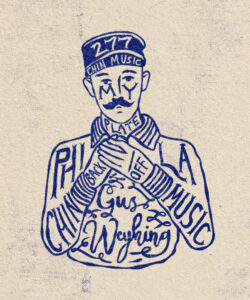 One of the best hurlers of the 1880s.
When pitcher Gus Weyhing began playing professionally in 1887, baseball was a different game than the one we know today. According to the Major League Baseball's Official Historian John Thorn, the pitching distance was 4 feet, 3–1/2 inches shorter than that of today. Fielders didn't wear gloves.
Playing under those circumstances for the first half of his career, Weyhing was dominant. In his rookie year he won 26 games.
Gus was just getting started.
Following a 28-win sophomore campaign in 1888, the man they called Rubber-Winged Gus then reeled off four straight 30-win seasons. From 1887 to 1893, Weyhing was consistently among the league leaders in wins, strikeouts, and shutouts. While throwing from the shorter distance, Weyhing was a star swing-and-miss hurler.
By the end of his age-26 season Weyhing had 200 career wins. His numbers through his first seven seasons compare favorably to many Hall of Fame hurlers.
Everything changed in 1893
Then everything changed. In March 1893, the National League voted to increase the pitching distance to the familiar modern mark of 60'6″. Though Weyhing managed 23 wins in his first year at the new distance, his path to greatness was forever derailed.
Splitting his career into two 7-year stints gives a good before-and-after look. From 1887-1893 Weyhing had 200 wins, a .588 winning percentage, 1,309 strikeouts, and a 3.34 ERA.
From 1894-1901, he managed just 64 wins, a .410 winning percentage, 358 strikeouts, and a 5.07 ERA.
Before the rule change, Gus Weyhing was on his was to earning a plaque in Cooperstown. When the pitching distance was extended, he became a below-average hurler lucky to be in the big leagues.
Does Gus have a case for Cooperstown?
Despite his fall off in performance, Weyhing finished his career with 264 wins. Of the 40 pitchers with at least that many victories, 33 have a Hall of Fame plaque.
There are 79 Hall of Famers who played primarily in the majors as pitchers. The average number of victories by those pitchers is 246, eighteen less than Gus.
According to Baseball-Reference's similarity scores, seven of the ten pitchers most similar to Weyhing are Cooperstown men. That, combined with Weyhing's five consecutive 30-wins seasons might lead some to conclude he has a case for induction.
A closer look reveals that simply isn't the case.
Taking a closer look…
Cooperstown is full of elite winners; Weyhing's .532 career winning percentage doesn't rank in the top 500 all time. Among Hall of Fame pitchers, only Jack Morris' ERA is higher than Weyhing's 3.88 career mark.
Rubber-Winged Gus does rank high in more dubious categories. Known for his lack of control on the mound, Weyhing still holds the MLB record of hitting 277 batters. Only four pitchers in big league history uncorked more wild pitches than Weyhing; just nine issued more bases on balls.
His fielding also detracts from his Cooperstown case – only six pitchers in the history of the game have more errors than Gus.
Hall of Fame voters were right when they passed on Weyhing.
Weyhing had an enviable career in the game's infancy
With a big league debut less than two decades after the birth of organized baseball, Weyhing played while the game was still getting established. Because of that, he lived quite the baseball odyssey. Gus threw for 11 teams in four different Major Leagues – the NL, AL, American Association, and the Players' League.
Weyhing's win total is more than the likes of Bob Gibson, Juan Marichal, Pedro Martinez, Carl Hubbell, and Mordecai Brown. His 35 wins in the minor leagues push his professional total to 303.
Pitcher Gus Weyhing will never gain induction to Cooperstown, but don't shed a tear. Good ole Gus spent 18 years getting paid to play the game he loved. His is a career worthy of celebration.
Reach Jim Smiley, the author of this story, CooperstownExpert@yahoo.com
Be sure to check out CooperstownExpert.com, the internet's leading website for the display of museum-quality baseball autographs. Check in at our Facebook page.