---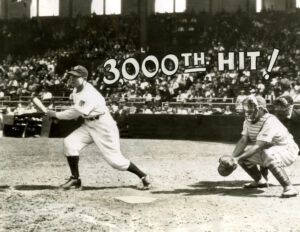 Six men precede Paul Waner in the 3,000-hit club
Paul Waner finished his Hall of Fame career with 3,152 hits.
The story of how Waner tallied his milestone 3,000th hit is now a mere footnote in baseball history. It's also a story worth knowing.
Before Waner collected his landmark knock, just six inner-circle Cooperstown men reached the plateau. In chronological order the 3,000-hit club included Cap Anson (1897), Honus Wagner (1914), Nap Lajoie (1914), Ty Cobb (1921), Tris Speaker (1925), and Eddie Collins (1925).
In the second game of a doubleheader on June 17, 1942, Waner's first-inning single pushed his total to 2,999. After a 3rd-inning flyout, Waner came up again in the 5th.
That's when something unexpected happened.
With one out and Braves rookie Tommy Holmes on first base, Waner hit a sharp grounder to the second-base side of shortstop Eddie Joost. The Reds infielder got his glove on the ball but did not make the play. Jerry Moore, the official scorer ruled it a hit.
It was a moment most men would cherish. Not Paul Waner. Big Poison didn't want a scoring decision – even a correct one – to give him hit #3,000.
Waner demands change – and gets it
Waner waved angrily to the press box, demanding that the call be changed to an error. Eventually the scorer relented; Waner got another chance at a clean #3,000.
After an off day for Boston, Waner and the Braves faced off against Rip Sewell and the Pittsburgh Pirates. In the top of the 5th Waner laced a clean RBI single to center and got what he wanted – a no-doubt 3,000th hit.
Baseball waited more than decade and a half before Stan Musial followed Waner as the 8th member of the 3,000-hit club. Since then, 24 more baseball batsmen have tallied the magic number. Of them all, only Paul Waner initially refused the moment and demanded to do it on his terms.
Reach Jim Smiley, the author of this story, CooperstownExpert@gmail.com
Be sure to check out CooperstownExpert.com, the internet's leading website for the display of museum-quality baseball autographs. Check in at our Facebook page.