---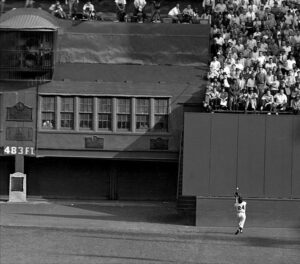 World Series heroics in a losing cause
Vic Wertz played over 1,000 big league games by the time he reached his only World Series in 1954. Once he got to baseball's biggest stage he was sensational.
In Game 1 Wertz opened the scoring with a two-run triple to deep right. In his next two at bats, Wertz hit sharp singles. Then in the 8th inning and the score tied 2-2, Wertz came to bat with two runners on.
The first baseman ripped a line drive to deep centerfield in New York's cavernous Polo Grounds. Giants center fielder Willie Mays turned his back to the plate and sprinted toward the wall. Mays caught up to it and made a spectacular over-the-shoulder grab 450 feet from the plate. "The Catch" brought the 52,751 fans in attendance to their feet.
The Giants won the game 5-2 in ten innings. Though his Indians were swept in the Series, Wertz went 8-for-16 with four extra-base hits.
For Mays the Game 1 play was another memorable moment in a career filled with them. With 660 homers, 24 all star appearances, 12 straight Gold Gloves and two MVP Awards, he is regarded by many as the game's greatest all-around player.
For 17-year MLB veteran Wertz, the flyball out is how many fans define him. More astute observers know Vic Wertz's career was much more than one play.
A fine big league career
Wertz debuted on April 15, 1947, the same day Jackie Robinson broke the color barrier. He recorded two hits including a double in his first big league game. In his first two seasons he hit .267 in 221 games.
Wertz hit his stride in 1949, making the all star team for the first time. By year's end Wertz slugged 20 homers, drove in 133 runs and hit .304. His totals in hits, runs, walks, batting average and slugging percentage were tops among AL right fielders. Wertz stayed in Detroit until 1952 when the Tigers traded him to the St. Louis Browns.
During the baseball off seasons Wertz prepared for life after baseball by serving as a spokesman for a brewery. Soon he bought a beer delivery route that he continually expanded.
Wertz' time in the game was steady yet unspectacular. He made four all star squads and received consideration in MVP balloting five times. For his career, Wertz had six seasons of 20 or more homers and five campaigns of at least 100 RBI.
Three years after the catch, Wertz made his fourth and final all star team. In 1960 he drove in 103 runs for the Red Sox in his last year as a big league regular. Wertz hit .262 in 99 games for Boston in '61 before they waived him in September.
More than a decade after trading Wertz, the Tigers claimed him off of waivers. The 37-year old Wertz hit .324 in a part-time role with Detroit. In 1963 he started the season 0-for-5 and was released. He landed in Minnesota where he played his final 35 big league games.
Making a difference in retirement
Throughout his life, Wertz embraced being a part of Mays' moment.
"I'm very proud that I'm associated with it," Wertz told UPI in 1979. "I look at it this way: If that ball Willie caught had been a home run or a triple, how many people would've remembered me? Not many. This way, everybody who meets me for the first time always identifies me with Willie's catch, and that makes me feel good."
In retirement Wertz devoted his time to his beer business. The former all star grew the Vic Wertz Distributorship to a multi-million dollar organization. By the early 1980s the company had an 80,000 square foot warehouse with nearly 50 delivery trucks.
Wertz was also active in charities, forming "Wertz Warriors" to raise millions of dollars for the Special Olympics. He also worked with the Easter Seals, the March of Dimes, and area Boys and Girls Clubs.
Wertz's 17-year big league career yielded 1,692 hits, and more than 1,000 RBI. He capitalized on the financial opportunities his time in baseball afforded him and used his economic might to make the world a better place.
Vic Wertz was much more than the batter in one of the finest defensive plays in World Series history.
Reach Jim Smiley, the author of this story, CooperstownExpert@yahoo.com
Be sure to check out CooperstownExpert.com, the internet's leading website for the display of museum-quality baseball autographs. Check in at our Facebook page.