---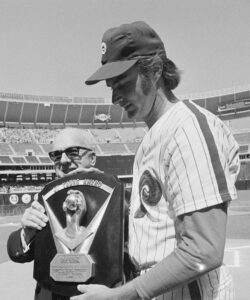 Steve Carlton's 1972 season is one of the greatest performances by a pitcher in the last 100 years. The National League Cy Young Award winner, Carlton went 27-10 for a last-place Phillies team that finished 37 1/2 games out of first place.
Any way you measure it, Lefty's season was one of the ages.
Carlton won the National League's pitching Triple Crown by leading the Senior Circuit in wins, ERA and strikeouts. He completed 30 of his 41 starts.
SABRmetrics are predictably kind to Carlton's season. He posted the highest single-season WAR by a pitcher since Walter Johnson in 1913. Lefty also led the majors in ERA+ and fielding-independent pitching.
Many feel his 1972 performance is vastly underappreciated.
It's plain to see, the career year for one of baseball's best pitchers was one of the ages.
Read More >