---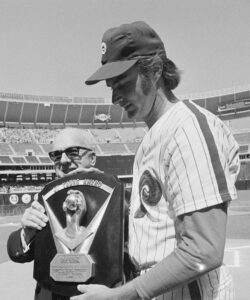 Pitching for a 97-loss team
Steve Carlton's 1972 season is one of the greatest performances by a pitcher in the last 100 years. The National League Cy Young Award winner, Carlton went 27-10 for a last-place Phillies team that finished 37 1/2 games out of first place.
Any way you measure it, Lefty's season was one of the ages. For those who cling to traditional stats, Carlton led the league in wins with 27, ERA at 1.91, and strikeouts with 310. He was remarkably durable – his 41 starts and 30 complete games also paced the Senior Circuit, as did his 346 1/2 innings pitched.
The 1972 97-loss Phillies were dismal. Carlton was the pitcher of record for 45.7% of his team's wins. Carlton's winning percentage was .730. The rest of the staff combined for a .269 mark. The only pitcher since Carlton to win as many as 27 games in a season is Bob Welch whose 1990 A's team won 103 games.
If SABRmetrics are your measurements of choice, Carlton's numbers show his dominance. His 12.5 WAR led all of baseball in '72. It was the highest single-season mark for a pitcher since Washington's Walter Johnson in 1913. Carlton led all big league pitchers in ERA+ (182), and fielding-independent pitching (2.01).
Helping his own cause
Carlton went 9-2 when the Phillies scored two or less runs. He also made a difference at the plate. On April 19th he shut out St. Louis and went 2-for-3 off of Hall of Fame hurler Bob Gibson. In his next start he went 1-for-4 and scored a run as he twirled another shutout.
At Veterans Stadium on July 11th he held the Dodgers to one run and went 1-for-3. He also scored the Phillies go-ahead run. Two weeks later he was a one-man gang, holding Los Angeles scoreless and driving in both runs in a 2-0 victory. On August 9th he smacked a homer and beat the Pirates 2-0.
With the bat in his hand, Carlton established career highs in hits, walks, RBI, and total bases in '72.
Remembering '72 in the proper light
Despite Carlton's sheer dominance, few today speak of his '72 season with proper reverence. Had he pitched for a better team, the 27-game winner likely would've eked out three more victories. Fans like round numbers. Thirty wins is an indelible mark.
Back in '72 baseball simply didn't use today's advanced measurements. Nobody knew or cared about WAR, FIP, or ERA+. There was little glamour pitching on a team that won only 59 games.
Those who witnessed his performance up close appreciated what they saw. When he was on the hill, the Phillies knew they had a chance to win.
"Steve sort off started it when he'd come through the clubhouse doors and say it's win day, and I sort of picked up on that," shortstop Larry Bowa told the Philadelphia Inquirer. "No matter how bad the team was, he expected you to go out and win when he pitched. We were a young team without experience, and maybe it was because we knew we didn't have to score many runs that we elevated our play when he went out there."
Perhaps reliever Mac Scarce summed it up best.
"Every fourth day we were the best team in baseball. Every other day we were the worst."
Reach Jim Smiley, the author of this story, CooperstownExpert@yahoo.com
Be sure to check out CooperstownExpert.com, the internet's leading website for the display of museum-quality baseball autographs. Check in at our Facebook page.