---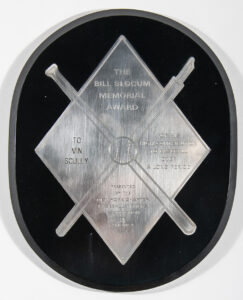 The oldest professional sport in the United States, baseball remains America's National Pastime to this day. The game's current leagues were flourishing soon after the end of the 1800s. Every city with a team had multiple newspapers reporting their games. Sportswriters worked from stadium press boxes describing their team's contests in great detail. The widespread news coverage helped grow the game.
In 1908 writers banded together to form the Baseball Writers Association of America. The BBWAA's founding mission was to "ensure professional working conditions for beat writers at all MLB ballparks and to promote uniformity of scoring methods.
Early in the 1900s New York City boasted three big league teams, the Giants and Dodgers of the National League, and the Highlanders – who later became the Yankees – in the American League. The Big Apple soon became the hub of the baseball world.
One of the writers who covered the New York teams was William J. Slocum. Respected for his baseball knowledge and writing ability, Slocum quickly rose to the top of his profession. Well-liked, he helped organize the New York chapter of the BBWAA.
The Bill Slocom Award is one of the most prestigious awards baseball has to offer. The little-known honor has been given to more than 50 members of the Hall of Fame.
Read More >