---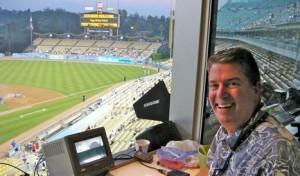 When Eric Smith talks, people listen. As public address announcer for theDodgers, Smith's commanding voice is a sound as familiar to fans attending Dodger games as the organ music of Take Me Out to the Ball Game.
For the last ten years, Smith has been the voice from above, announcing the players to the fans who come through the turnstiles each season – all three million of them.
"That's an intimidating number when you think about it," Smith says. "There's certainly responsibility that comes with that."
Perhaps Smith's biggest responsibility is announcing players into the game. When a player is on deck as a pinch hitter, he becomes a part of the game when Smith announces him. Before that happens, the manager tells the umpire he's making the change. The umpire then gestures to the press box in Eric's direction to alert him to announce the player.
In a preseason game in Smith's first year, he learned this procedure in dramatic fashion. Jim Tracy, the Dodger manager at the time, instructed a player swing a bat in the on-deck circle. Tracy had no intention of actually having the player pinch-hit.
"He was hoping the other manager would see the on-deck hitter and change the pitcher," Smith said. "Tracy is a precise manager and it was gamesmanship."
Seeing that the player on deck was not the batter due up, Smith announced him as a pinch hitter before receiving the umpire's nod.
From the field, a furious Tracy glared up to the press box to express his dismay.
"I learned a lesson that night," Smith says. "Now I don't announce a pinch hitter until the umpire points up to the press box or until the batter steps into the box."
In addition to the in-game duties, Smith has pre-game obligations.
"The most responsibility is in the pregame because for a lot of the people, it's their once-in-a-lifetime moment," Smith says. "I have to make it a moment that will be important to them and get it just right."

The person being recognized before the game who makes a living wage becomes more important than the millionaire baseball player?

"The guys playing hear their names announced four or five times a night throughout the year," Smith reasons. "They're used to it. But for the everyday person, it's their one shot. I've got to get it right."
When sickness or injury makes it more difficult for a player to get it right, that player might get a day off. It's different for announcers. For Smith, there is no disabled list. When he gets sick, he has to shake it off.
"I've never missed a game because of sickness," Smith says proudly. "For whatever reason, colds and sicknesses don't affect my voice."
That's not to say he's felt he's been at 100% each game. No matter the topic, Smith beams, a smile accompanying his words.
"There have been games when I've put my head down between batters, gotten nudged and announced the next guy, but I've never missed with a cold," Smith chuckles.
There's something about going to the ballpark as a youngster. The sights and sounds of a stadium from a person's childhood forever evoke happy memories of the simplicity of youth. A public address announcer's voiceelicits such recollections.
For Smith, that voice belonged to John Ramsey.
Ramsey was the original public address announcer for the Dodgers, Angels, Lakers, Kings and Rams. For generations of Angelinos, he was the voice of every local sporting event.
Sitting in the same seat once occupied by Ramsey makes Smith more aware of his position. As he reflects on Ramsey, Smith becomes more pensive. His smile slowly dissolves.
"For many of us, growing up and thinking of Dodger Stadium, we think ofJohn Ramsey's voice," he says. "I would love for kids growing up now to remember Dodger Stadium and think similar thoughts of me."
Soon his smile returns. Smith loves his job and knows it's a good fit. As he speaks, you get the feeling the Dodgers have the right man behind their microphone.
"I never forget that I've got a job where I'm allowed to do something that many people would like to do. I'm incredibly lucky to do this."
Reach Jim Smiley, the author of this story, CooperstownExpert@yahoo.com
Be sure to check out CooperstownExpert.com, the internet's leading website for the display of museum-quality baseball autographs. Check in at our Facebook page.