---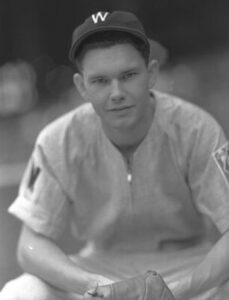 Buddy Lewis broke into the big leagues at age 19, was a regular by age 20, and an All Star by age 21.
When the infielder recorded his 1,000th career hit on June 4, 1941 he was just 24 years old.
Only four players in major league history reached the 1,000-hit plateau at a younger age. All are in the Hall of Fame – Ty Cobb, Mel Ott, Al Kaline, and Freddie Lindstrom – are in the Hall of Fame.
The Senators third baseman was one of baseball rising young stars. Lewis was on the path to Cooperstown.
Then everything changed.
Lewis enlisted into the army to fight in World War II. Flying a C-47 that he named "The Old Fox" in honor of Senators owner Clark Griffith, Lewis survived more than 350 missions.
When he returned to the game after a 3 1/2 year absence, he was a different man and a different player.
With all that he saw during the war, baseball took on less significance.
Though he had some success, Lewis was out of baseball by age 34.
Once a man on the path to Cooperstown, Lewis answered the call to serve his country.
This is the story of Senators great and World War II hero Buddy Lewis.
Read More >