---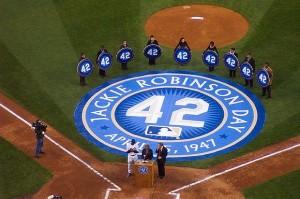 Jackie Robinson
once said, "A life is not important except in the impact it has on other lives." By that measurement, Robinson's life may be the most important the game of baseball has ever known. Though it's easy to see the cultural impact of Robinson breaking baseball's color barrier, the individual stories sometimes get lost in the bigger picture.
For former Major Leaguer Ed Charles
, Robinson emergence was a turning point, not only for the United States, but perhaps more importantly, for an entire segment of its population. "The emergence of Mr. Jackie Robinson as the first black to play modern day organized baseball had a monumental impact upon my life, and I'm sure, the lives of other Americans as well," Charles wrote in a letter 1984. An eight-year big league veteran, Charles was aware of Robinson at an early age. Charles believed that Robinson's impact was felt by the nation and its individuals.
"Jackie represented to me, given the social climate of the nation at that time, hope, courage, and a new faith in a system that had been grossly neglectful of providing equal participation for its minority citizens," Charles wrote. "His presence stirred me, as well as others, to redirect our goals from that of 'Black Stream' – limited opportunities – to 'Main Stream' America. He inspired me to personally strive forward with confidence so that I too could attain the 'American Dream'."
For a segment of the population that was relegated to the status of second-class citizenry, the Robinson story became a source of pride, an agent of change. "He became a role model that we black kids, as well as adults, could identify with and express pride in. His strength, perseverance, and fiery spirit was an inspiration…to his teammates, and to mankind in general." Charles relied on that inspiration to become the Kansas City Athletics all-time leader in game played, and total bases, and a World Champion with the 1969 Mets. For Charles, the impact of Robinson was personal, the importance of his life immense. "I dare say that he prodded us all to a higher degree of competitiveness in the sport arenas, and the private sectors as well." "God bless America, and God bless Jackie Robinson"
Reach Jim Smiley, the author of this story, CooperstownExpert@yahoo.com
B
e sure to check out CooperstownExpert.com, the internet's leading website for the display of museum-quality baseball autographs. Check in at our Facebook page.