---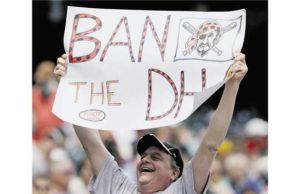 How times have changed. Today the National League remains one of few leagues above the high school level not to employ the designated hitter rule. The Senior Circuit continues to resist the rule that the AL has embraced for more than four decades.
That wasn't always the case.
NL owners approve the "ten-man team rule"
National League president John Heydler proposed the DH at the Winter Meetings on December 11, 1928. It was originally referred to as the "Ten-Man Team Rule".
Heydler's motivations seem clear. He was looking to capture some of the excitement the homer-happy AL harnessed with the emergence of Babe Ruth.
From 1920-1928 the Bambino was a one-man wrecking crew. The Babe had seven seasons with 40 or more homers, including four of 50 or more, and one with 60. During the same span Heydler's league had only two 40-homer seasons.  Totals of 15, 21, 23, and 27 led NL in the 20's.
While the NL couldn't match the AL in star power, Heydler felt keeping hurlers on the hill and out of the batters box might generate more offense.
"Pitchers are absolutely useless as batters nowadays," Heydler was quoted as saying in the Chicago papers. "The average pitcher not only is helpless at bat, but when they happen to get to base they are not inclined to run. They want to conserve their energy for pitching purposes. The change will liven up the game and put more initiative in it."
NL owners approved Heydler's recommendation of the "Ten-Man Team Rule". The rules of the day dictated that anything proposed by one league most be approved by the other.  
League rivalries prevent the adoption of the designated hitter
The two leagues were deadlocked on the issue. The deciding vote would come from Commissioner Kenesaw Mountain Landis. Many expected Landis to vote in favor of the rule and enact it across the Major Leagues.
Before it got to that Heydler and the NL withdrew the recommendation, alleviating Landis of the decision.
Forty-five years later on January 11, 1973 American League owners approved the DH for a three-year trial. AL fans soon feel in love with their big boppers and the rule was made permanent. 
Though the NL continues its opposition of the DH today, most baseball fans don't realize that long ago the tables were turned. 
To learn more about John Heydler, click here.
Be sure to check out CooperstownExpert.com, the internet's leading website for the display of museum-quality baseball autographs and memorabilia.
Reach the author of this story at JSmiley@CooperstownExpert.com