---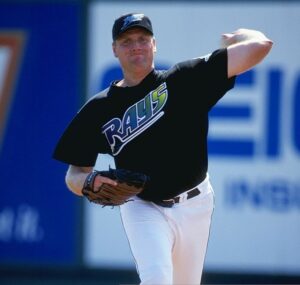 By Jim Smiley
Every big leaguer counts his Major League debut among life's most memorable moments. That first appearance is the culmination of years of hard work and sacrifice. It's the accomplishment of a dream shared by many and achieved by few.
For Tampa Bay Devil Rays pitcher Alan Newman that moment is one he'll always remember – and one he'd like to forget.
A long and winding road to the big leagues
Newman grew up less than ten miles from the Angels home park in Anaheim and attended nearby Fullerton College. In 1988 the Minnesota Twins selected Newman in the second round of the draft.
The 6'6″ lefty-hander then spent more than a decade bouncing around the minor league organizations of the Twins, Reds, White Sox, Padres, and Devil Rays.
Newman finally became a major leaguer with Tampa Bay on May 14th, 1999. A dream come true for the 29-year old reliever, his debut came just minutes away from his childhood home against the Angels, the team he grew up rooting for.
Bobby Witt started the game for Tampa, throwing five scoreless innings before surrendering a grand slam to Mo Vaughn in the 6th. Witt came back out in the 7th and yielded a leadoff single before exiting in favor of right-hander Rick White.
White was ineffective, allowing two singles and a run before retiring Darin Erstad on a fly ball to the warning track. He walked the next batter to load the bases.
Due up again was the former MVP Vaughn who was coming off of his finest season. In '98 big Mo slugged 40 homers, drove in 115 runs, and hit career-high .337 average, good for second in the league.
The lefty makes his MLB debut
Favoring the lefty-on-lefty matchup, Rays manager Larry Rothschild summoned Newman from the bullpen.
Years later Newman recalled the episode.
"My most memorable moment was my first big league game. It was in Anaheim near my home town of La Habra, California. I was called in to with the bases loaded to face Mo Vaughn.

"In all of the excitement I messed up the signs from the catcher. Instead of going with the second sign as planned, I went with the first…I was wrong so I stopped and that caused me to balk in a run before actually throwing a pitch."
With that, Newman reached baseball's highest level in a most regrettable way. The southpaw never gained solid footing in the show. His Major League career totaled 17 innings in which he yielded 15 earned runs on 28 hits, 10 walks, and one memorable balk.
Those who see the former second-rounder's professional career as a failure should consider this: though he pitched mostly in the minors, Alan Newman appeared in more than 500 games and got paid to play the game he loved for 19 years.
That's certainly nothing to balk at.
Reach Jim Smiley, the author of this story, CooperstownExpert@yahoo.com
Be sure to check out CooperstownExpert.com, the internet's leading website for the display of museum-quality baseball autographs. Check in at our Facebook page.