---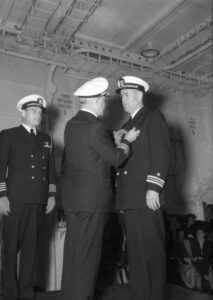 The college standout takes an unconventional path to pro ball
George Earnshaw took the road less traveled. Throughout his life he made unexpected decisions that always had a way of working out. Living on his own terms he became the right-handed ace of a baseball dynasty and a World War II hero.
Earnshaw was a star in football, basketball, and baseball at Swarthmore College and later a member of the school's athletic Hall of Fame. On the pitcher's mound the 6'4″, 210-pounder was an especially imposing presence. When he left the school in 1922, baseball scouts tabbed him as the top local prospect.
The International League's Double-A Baltimore Orioles were Earnshaw's most persistent suitor. When they wouldn't agree to his demand of $600 per month, Earnshaw took a job with his uncle's transportation business in Newark, New Jersey. He later joked he was the only holdout in baseball history who had yet to play a professional game.
Over the next couple of years, the Orioles reminded Earnshaw of their interest each time they traveled to Newark to play the Bears. When his uncle's business closed in 1924, Earnshaw finally took the Orioles up on their baseball offer. More than two years older than the average age of his Double-A counterparts, Earnshaw made his professional debut at age 24. He immediately excelled, winning 7 games without a loss in his first season.
In the next two years Earnshaw won 51 games in Baltimore. Big league teams soon came calling. On June 1, 1928 the Philadelphia Athletics paid the Orioles $80,000 in a three-player deal to acquire him.
Earnshaw pitches Connie Mack's A's to three straight World Series
Two days after joining the Athletics, Earnshaw made his MLB debut at the ripe old age of 28. In 26 games including 22 starts, he went 7-7 with two saves, 3 shutouts, and 7 complete-games.
The following season the 29-year old blossomed, winning an AL-best 24 games. He was second among Junior Circuit pitchers in ERA and fifth in strikeouts. The tandem of Earnshaw and Lefty Grove at the top of the rotation gave the Athletics a formidable right/left tandem that carried them to success.
Since 1924, just four franchises have won three consecutive pennants. As Philadelphia's right-handed workhorse, Earnshaw helped put the Athletics on the list. The New York native won at least 20 games in each of the Athletics' pennant-winning years from 1929-1931. In 8 World Series starts Earnshaw had a nifty 1.58 ERA with five complete games and a shutout. He helped Philadelphia win it all in '29 and '30.
As the Great Depression took hold, Athletics owner Connie Mack looked for ways to keep his club afloat. On December 12, 1933 Mack sold and traded Grove, Earnshaw and their battery-mate, Hall of Famer Mickey Cochrane. The trio's departure signaled an end to Philadelphia's winning ways. Athletics fans watched a losing club for the next 13 seasons.
Earnshaw pitched three more seasons for the White Sox, Dodgers, and Cardinals. He finished his career with 127 wins, 115 complete games a .577 winning percentage, and more than 1,000 strikeouts.
Forty-one year old Earnshaw joins the war effort despite his age exemption
Five years after Earnshaw's playing career ended, the United States enacted the Selective Training and Service Act of 1940. In preparation for World War II, the act required all men between 21 and 36 to register for the draft. As a 41-year old, Earnshaw was exempt from registering. Many would've rejoiced. Not Earnshaw. Five months before the attack on Pearl Harbor, the father of three volunteered for service in the Navy.
While stationed at Jacksonville Naval Air Station, Earnshaw managed the baseball team to a 35-12 record in 1942. Later that year he was chosen as a coach of the Navy All Star team that was slated to play a game in Cleveland against active stars from the American League.
In the months before the game, the Navy commissioned the aircraft carrier Yorktown. Volunteers were taken to serve aboard the new ship. With a cushy stateside military baseball assignment already in his pocket, Earnshaw opted instead for action in the Pacific Theater.
Lieutenant Commander Earnshaw's heroism results in the Bronze Star
Just days after his 44th birthday Lieutenant Commander Earnshaw and the Yorktown took part in Operation Hailstone, a carrier raid on Truk Island in the Pacific. In a fierce fight Earnshaw was at his best. His valor was aptly described in the commendation Earnshaw received from Admiral Chester Nimitz. "With exceptional ability and judgment and considerable calmness, he directed effective anti-aircraft fire against three fast, low-flying torpedo planes and contributed directly in saving his ship from serious damage." Earnshaw was later awarded the Bronze Star for heroism.
He left the military in 1947 with the rank of Commander.
Back in civilian life , Earnshaw returns to baseball
Once again in civilian life, Earnshaw returned to Philadelphia and baseball. This time it was the National League's Phillies who paid him. In Earnshaw's first two seasons back in the game, he served as a scout and advisor to the club owner. His final stint in uniform came from 1949-1951 as Phillies pitching coach. His first year in that capacity Earnshaw mentored young Robin Roberts. The WWII veteran helped the future Hall of Famer increase his win total from 7 in 1948 to 15 the following year. In 1950 under Earnshaw's tutelage the 23-year old Robin Roberts became a 20-game winner for the first time. Earnshaw's work with the the Phillies pitchers helped push the team to their first World Series since 1915.
After the 1951 season Earnshaw retired from the game for good. He lived the rest of his life on a farm near Hot Springs, Arkansas, away from the bright lights of fame.
A three-time 20-game winner and two-time World Series champ, George Earnshaw's athletic greatness was surpassed only by his patriotism and sense of duty to his country as a World War II hero.
Reach Jim Smiley, the author of this story, CooperstownExpert@gmail.com
Be sure to check out CooperstownExpert.com, the internet's leading website for the display of museum-quality baseball autographs. Check in and talk baseball at our Facebook page.