---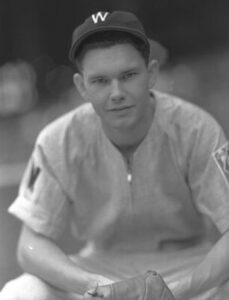 Breaking in as a teenager in 1935
Buddy Lewis began his major league career with the Washington Senators in 1935, just one month after his 19th birthday. A regular for Bucky Harris' club in '36, Lewis had 175 hits and 100 runs scored. In his age-20 campaign of '37, Lewis' 210 hits were more than all but three American Leaguers. For an encore, Lewis started at third base in the 1938 All Star game. Seven of the nine AL starters ended up in Cooperstown.
When the infielder recorded his 1,000th career hit on June 4, 1941 he was just 24 years old. Only four players in major league history reached the 1,000-hit plateau at a younger age. All are in the Hall of Fame – Ty Cobb, Mel Ott, Al Kaline, and Freddie Lindstrom.
By the end of the '41 season Lewis had 1,112 hits. In his first six full seasons he hit .306, averaging 185 hits, 30 doubles per year. Lewis walked nearly twice as much as he struck out. He was one of baseball's rising young stars.
Then America entered World War II.
Enlisting into the army to serve his country
After he received his draft notice, Lewis instead enlisted into the army where he became a pilot. He named his plane "The Old Fox", the nickname given to Washington Senators owner Clark Griffith when he was a player.
Flying his C-47 transport plane, Lewis flew over the Hump, the treacherous stretch over the Himalayas. He nimbly managed the clunky plane.
According to Lewis' SABR biography, fellow big leaguer Luke Sewell who flew with Lewis said, "He set that big transport down on strips that didn't look big enough for a mosquito to land on. And he did it while he was talking baseball to me."
Lewis was part of an elite unit that towed gliders carrying air commandos over Burma and India. The troops he ferried landed behind enemy lines in the war effort against Japan. When the commandos completed their mission, Lewis flew low over the grounded gliders, picking them up with a skyhook so he could bring the troops home.
Lewis is quoted in a SARB article speaking about the dangers of his charge. "Let me tell you, you didn't want to go down over those jungles. They gave me two pieces of advice. They said the day I crashed in Burma, if I survived, to come out of the plane with a baseball in my hand. I'm serious. They told me it might just save my life because the Japanese love baseball and they will take care of you. The other advice was that I was given a cake of cocaine to carry in my pocket. If I crashed in the jungle, and the natives found me, to give it to them and they would get me out of the jungle and to safety."
Lewis ascended to the rank of captain, flying 369 missions and earning the Distinguished Flying Cross and the Air Medal with oak leaf cluster.
He was discharged in 1945.
Returning to the game after 3 1/2 years at war
By the time he returned to the game, Lewis missed 3 1/2 years of baseball. Just 25 years old when he left, the infielder was 14 days shy of of 29th birthday when he played his first game back. The toll of his time in the war was apparent.
"My good friend, Buddy Lewis left for war and missed four years of baseball," recalled teammate George Case. "He left a dark-haired man and came back to us at the end of 1945 with a full head of white hair and some hair-raising stories."
Things were never the same for Lewis back on the diamond.
"When I came back from the war, my philosophy of life was completely different," Lewis explained years later. "I had changed so much that baseball didn't mean as much to me as it did before the war."
In the six seasons before he enlisted, Lewis was an all star who averaged 50 extra-base hits and nearly 200 safeties per season. From the time he was 19 through his 25th birthday, he was a .300 hitter. Lewis was on the path to 3,000 hits and all that comes with it.
Adjusting to life as a baseball player
Though he had 1,000 hits before turning 25, Lewis finished with just 1,536 knocks for his career. When he retired in 1947 after his age-30 season his average was still at .300. After sitting out in '48 he made an ill-fated comeback attempt in 1949.
"I never realized how much the game was a part of me until I stayed out of it last season," Lewis said. "When I saw those lineups and scores in the papers, I felt lonesome for baseball."
Though he went 10-for-26 as a pinch hitter in '49, Lewis hit just .245 overall in 95 games for Griffith's Senators. His career average dropped to .297. At the end of the season he was done for good.
For the first 7 years of his career Buddy Lewis played his way onto the path to Cooperstown. That all changed when he enlisted into the armed forces. His service to our country in World War II was invaluable in the effort to keep America free.
Though he lost his chance at baseball immortality, Lewis answered a higher calling.
Reach Jim Smiley, the author of this story, CooperstownExpert@yahoo.com
Be sure to check out CooperstownExpert.com, the internet's leading website for the display of museum-quality baseball autographs. Check in at our Facebook page.