August 2nd, 2017
---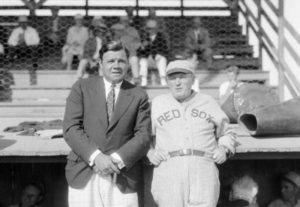 Every summer the baseball world pauses and takes notice as Hall of Fame induction weekend puts the village of Cooperstown on display. Players, managers, executives, owners, and umpires who are deemed worthy receive a plaque and along with it, baseball immortality.
The election process during the Hall's infancy bears little resemblance to today. For the first decade of induction, Cooperstown recognized only its players with the exception of pioneer Henry Chadwick. Wanting to recognize non-playing personnel, the Hall established the Honor Rolls of Baseball in 1946 as a second level of induction. That year the museum's Permanent Committee voted to include 39 non-players into the Honor Rolls including 11 umpires, 11 executives, 12 sportswriters, and 5 managers.
Of the five skippers, four have since gained full induction with plaques in Cooperstown. The lone manager not so recognized is former Red Sox pilot Bill Carrigan.
Born in Maine in 1883, Carrigan broke in with Boston in 1906 as a backup catcher. In time he became a favorite of the pitching staff, catching the likes of Cy Young, Bill Dinneen and a young Babe Ruth for the Red Sox. Soon Carrigan was one of the game's most respected players, earning votes in Most Valuable Player balloting in 1912 despite appearing in only 87 games for the World Champions.
The following season the Red Sox fell on hard times and were mired in fifth place at mid season. An impatient ownership fired skipper Jake Stahl and named Carrigan as the team's player-manager. Carrigan turned around Boston's fortunes as the Sox won 40 of their last 70 games. Building on that success Boston won 91 games and finished second in 1914 during Ruth's first big league season. Throughout his life Ruth called Carrigan the finest skipper he ever played for.
The 1915 season started slowly with the Sox splitting their first 30 games through May 29. From there they caught fire, wining over 70% of their games the rest of the way, finishing as World Series champs. Carrigan repeated the success in 1916 as Boston won back-to-back World Series titles for the first, and still only, time in franchise history.
When Carrigan's playing career ended after the 1916 season, he stepped down as manager and become a banker in his home state of Maine. The Red Sox never forgot him. After a dismal 46-107 record and last-place finish in 1926 Boston owner Bob Quinn coaxed Carrigan to return. Though he couldn't duplicate the glory of earlier times, Carrigan stayed three seasons before quitting for good. Seventeen years after leaving the game, Carrigan received what was then the game's highest honor bestowed upon its managers with his election to the Honor Rolls of Baseball in 1946.
To this day, Carrigan and Terry Francona are the only two managers to guide Boston to two titles. The former catcher is also one of only 16 players to earn three rings with the Sox. For his contributions to the franchise, the Red Sox inducted Carrigan into their Hall of Fame in 2004.
A ten-year playing career of only 709 games and a career managerial record of 489-500 will never gain him a plaque in Cooperstown but Bill Carrigan's résumé makes him remarkable to baseball and a towering figure in long and storied history of the Boston Red Sox.
To learn more about Bill Carrigan, click here. You can reach the author of this story at JSmiley@CooperstownExpert.com