---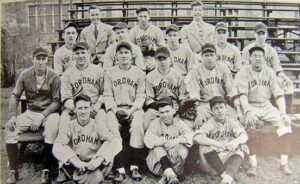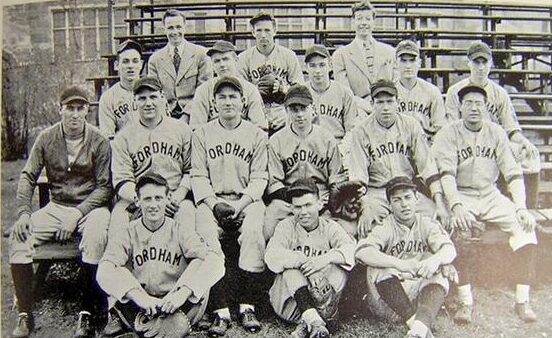 Scully & MLB's Miggins played ball together in high school
During the second semester of the 1943 school year, Fordham Prep High School baseball teammates Larry Miggins and Vin Scully sat in their school's auditorium sharing dreams of reaching the big leagues.
While Miggins fancied himself as a future Major League player, Scully hoped to become a big league baseball announcer. The two men created a dream scenario that would come true on May 13, 1952 at Brooklyn's Ebbets Field.
Miggins tells the story
"Vince Scully and I were attending Fordham Prep in 1943," Miggins wrote in a letter seen at the bottom of this page. "At a school assembly he was sitting behind me, grabbed me by the shoulders and said, 'Larry someday you will be in the big leagues and the first time you hit a home run, I will be the announcer and tell the world about it.'
"Sure enough it happened in 1952. I was with the Cardinals and the first time we played in NY – my home town – Eddie Stanky put me in left field and I hit a home run (my first) off of Preacher Roe and beat him for the first time in two years. Scully had joined Red Barber on radio broadcasts and he actually told the whole world what happened in 1943."
The Cardinals player enjoyed a decade of pro ball
Miggins' professional baseball career lasted ten seasons, two at the big league level. After his Fordham Prep classmate called his first Major League home run, Miggins hit just one more. He left the game at age 28 with exactly 100 big league plate appearances.

Miggins' high school baseball teammate Scully stayed in the game for more than six decades. He called a record 28 World Series, 21 no-hitters, and three perfect games. In 2014 he joined Jackie Robinson's widow Rachel as the only two non-players to receive the Baseball Commissioner's Historic Achievement Award. President Barack Obama awarded him the Presidential Medal of Freedom at the White House in 2016.
A remarkable 67-year broadcasting career started as a dream in a high school auditorium when teenagers Larry Miggins and Vin Scully foresaw their ideal future. Nine years later at Ebbets Field the Fordham Prep teammates shared what the greatest sports announcer of all time calls his most memorable baseball moment.
Reach Jim Smiley, the author of this story, CooperstownExpert@gmail.com
Be sure to check out CooperstownExpert.com, the internet's leading website for the display of museum-quality baseball autographs. Check in at our Facebook page.