---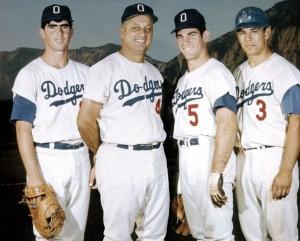 In 1968, the Dodgers drafted nine players who would go on to play a total of 148 seasons in the Major Leagues, appear in 23 All Star games, total over 11,000 hits, and club more than 1,100 home runs. The two pitchers from the draft tallied 305 big league wins. Add in six Gold Glove Awards, a batting championship, an All Star MVP award, a regular-season MVP award, a World Series MVP award, and the N.L. record holder for consecutive games played, and it's easy to see why many believe it's the greatest draft by any team in the history of professional sports.
"The draft of 1968 was historical," said Ron Cey, one of the players drafted that year. "97% of the cream of the crop each year is supposed to fail. That draft might be the best draft in history with a bunch of guys who played 15 years or so, Bobby Valentine, Billy Buckner, Davey Lopes, Tom Paciorek, Doyle Alexander, Steve Garvey, Joe Ferguson, myself. That's a lot of guys right there."
Cey failed to include 111-game winner, Geoff Zahn, a Dodger teammate for three seasons. The selection of those players laid the foundation for continued excellence in Los Angeles. Cey, now 63, recounted the high hopes the younger players in the organization had as they moved up the ranks. "There was a lot of history for the
Dodgers
when we came up," he said. "They win the first year they're here (in Los Angeles), then they're in the World Series a few times right after that. We had a lot to live up to." The first player from the draft to break in was Valentine, a September call up in 1969. From that time until the last of the nine suited up for the Dodgers – Cey in 1982 – the team was 268 games above .500, posting winning seasons in thirteen of the fourteen years. Some made their mark playing for other teams. Valentine's stint in Los Angeles was short-lived as he left the team in 1972. After his playing career ended, he managed 15 years spanning 2,189 games. Alexander pitched for the club only one year before being dealt to the Orioles in a six-player trade that included
Frank Robinson
. Alexander would pitch another eighteen years, winning almost 200 games. Of the nine, Buckner totaled the most career hits, his 2715 knocks surpassing the totals of baseball legends
Joe DiMaggio
,
Ted Williams
, and
Mickey Mantle
. Buckner played 22 years and was the National League's batting champion in 1980. He would leave the Dodgers in a trade that netted the club Rick Monday, a key contributor in the 1981 championship year. The core contributors for Los Angeles from the draft were Cey, Garvey, and Lopes, who played in over 4,000 games in Dodger uniforms. "It was an unparalleled era…just coming into free agency and big contracts," Cey recalled. "There wasn't as much player movement." That era was a great time for Dodger players and Dodger fans.
"The fans treated us like family," Cey said. "You have an infield that played together for eight and a half years. We had the first 30-homer foursome; we were the first to draw three million fans. The fans supported us and we rewarded them with four World Series appearances in ten years. It was a great time to play."
"Can you imagine being a Dodger fan in the 1970s?," he continued. "The atmosphere was electric." The players continued to produce through the '70s, but after the 1981 World Series win, time was running out on the era. "After '82, it was pretty clear things were going to change," said Cey. "Davey had left the year before. We had reached that age where it was time to go. For the Dodgers, that age was 35. We played another five years, but that's not to say that the decision to let us go was wrong." That decision to let the players go at that time echoed the feelings longtime general manager, Al Campanis, who believed that it was better to trade a player one year too early than one year too late. The players knew it wouldn't last forever; Cey saw it coming "They had a group of young players ready to come along, Greg Brock, Steve Sax, Mike Marshall, Alejandro Pena, guys like that," he said. "The farm system was ready. All those guys had serious minor league credentials." Cey looks back on his time with the Dodgers with a sense of accomplishment. He also felt great responsibility to fulfill the potential of that 1968 Dodger draft. "If we hadn't been able to represent the club and win like we did, I would have been disappointed. I'm extremely grateful we were able to do the things we did."
Reach Jim Smiley, the author of this story, CooperstownExpert@yahoo.com
B
e sure to check out CooperstownExpert.com, the internet's leading website for the display of museum-quality baseball autographs. Check in at our Facebook page.