---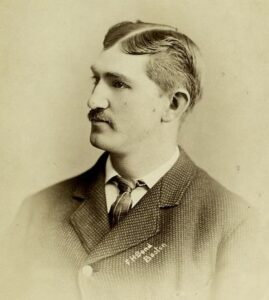 The National League's inaugural season
The first Irish-born major leaguer, Tommy Bond immigrated to the United States in the midst of the US Civil War in 1862. Living in Brooklyn, Bond took a liking to the American game of baseball. By age 18 he reached the game's highest level, winning 22 games for his hometown Brooklyn Atlantics of the National Association in 1874. Bond moved to the Hartford Dark Blues in 1875. He posted a 1.41 ERA and brought his two-year NA win total to 41.
Before the 1876 season, the Dark Blues moved to the newly-formed National League. Bond was spectacular in the Senior Circuit's inaugural season. The right hander won 31 games with a 1.68 earned run average. At bat, his .275 average was surpassed by only one of his teammates.
His finest years came after leaving Hartford for the Boston Red Stockings. In 1877, Bond joined four future Hall of Famers on the Boston club: manager Harry Wright, shortstop George Wright, and multi-positional players Jim O'Rourke, and Deacon White.
Major League Baseball's first pitching triple crown
In his initial year with the Red Stockings, Bond earned the first pitching triple crown in big league history with a league-leading 40 wins, 2.11 ERA, and 170 strikeouts. The following season, he was just as dominant, again winning 40 while lowering his ERA to 2.06 and upping his strikeout total to 182. In 1879 he won a career-high 43 contests with a league-best 1.96 ERA. That year he paced the NL in shutouts, ERA+, WHIP, and BB/9.
For those three seasons, Bond was quite simply the best pitcher in the game. His three-year totals are staggering: 1,609 innings pitched, 123 wins against just 55 losses, a 2.04 ERA, and 503 strikeouts with only 93 walks.
In his 10-year career, Bond won 20 or more in six seasons, 30 or more in four seasons, and 40 or more in three seasons. The Irishman averaged more than 23 wins per year. Bond also played 92 games in the outfield and another 11 in the infield.
A strong case for Cooperstown
Many aficionados of the beginnings of professional baseball believe Bond's career is worthy of review by the Hall of Fame's Veterans Committee.
Only 6 Cooperstown twirlers posted an ERA lower than Bond's lifetime 2.14 mark. His career win total surpasses of 234 surpasses that of 33 Hall of Fame hurlers. Bond ranks in baseball's top 20 all time in WHIP and complete games and is second in both walks per nine innings, and strikeout-to-walk ratio. Some decry his career because it lasted only ten years. Still, Bonds 3,628 2/3 innings pitched ranks 60th all time.
Though Bond remains largely forgotten by all but a few American baseball fans, the Irishman still holds a lofty position in his homeland. Each year at the highest level of competition on the Emerald Isle, the equivalent to MLB's Cy Young Award is given to the league's best pitcher. The name of the honor? The Tommy Bond Award.
Reach Jim Smiley, the author of this story, CooperstownExpert@yahoo.com
Be sure to check out CooperstownExpert.com, the internet's leading website for the display of museum-quality baseball autographs. Check in at our Facebook page.