---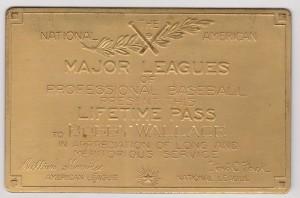 A newspaper man turned league publicist turned league president came up with a brilliant idea in 1934 — reward longtime National League players with a lifetime pass to all NL games. Senior Circuit owners approved Ford Frick's proposal at the league meeting in December of '34.
A few months later, Frick sent out ornately decorated paper Lifetime Passes to the NL's greatest players. He even sent one to Babe Ruth who appeared in all of 28 games for the Boston Braves in 1935. A 21-year veteran of the American League, the Babe was grateful if not surprised when he remarked, "At least the National League has a heart". An image of the original paper pass presented to Hall of Fame outfielder Sliding Billy Hamilton can be seen below. A similar pass curiously issued to Stan Coveleski, a lifetime American Leaguer is also shown.
Perhaps shamed by Ruth's remarks, the American League joined forces in 1936 to issue a pass to all Major League contests. Players with twenty or more years of service received a solid gold pass. Seventeen men qualified for the true "golden ticket" — Ruth, Fred Clarke, Ty Cobb, Eddie Collins, Bill Dahlen, Harry Davis, Red Faber, Walter Johnson, Sam Jones, Nap Lajoie, Rabbit Maranville, Herb Pennock, Eppa Rixey, Tris Speaker, Honus Wagner, Bobby Wallace and Cy Young. An images of Wallace's gold card can be see below as well as thank-you notes to Frick from Clarke, Johnson, Wagner, and Johnny Evers.
Thee hundred and eighty-six players with at least ten years in the big leagues but less than twenty received solid silver passes. Images of Hamilton's pass, and those of Hall of Famers Billy Southworth and Joe Sewell are below along with brief stories on each of the men.
Through the years the passes have changed — see below for the different passes in the collection — but the prestige associated with the honor remains.
These passes and all items on this website are part of the privately-held CooperstownExpert.com collection. For more information email Jim Smiley at CooperstownExpert@yahoo.com
Be sure to check out CooperstownExpert.com, the internet's leading website for the display of museum-quality baseball autographs. Check in at our Facebook page.